Ahead of his much anticipated clash against Jared Cannonier at UFC 276, we take a look at how many rounds Israel Adesnya has lost inside the UFC
The UFC returns with a stacked pay-per-view card for the International Fight Week, when UFC 276 goes down on 2nd July at T-Mobile Arena. The card features two title fights at the top of the card, with a total of 12 fights.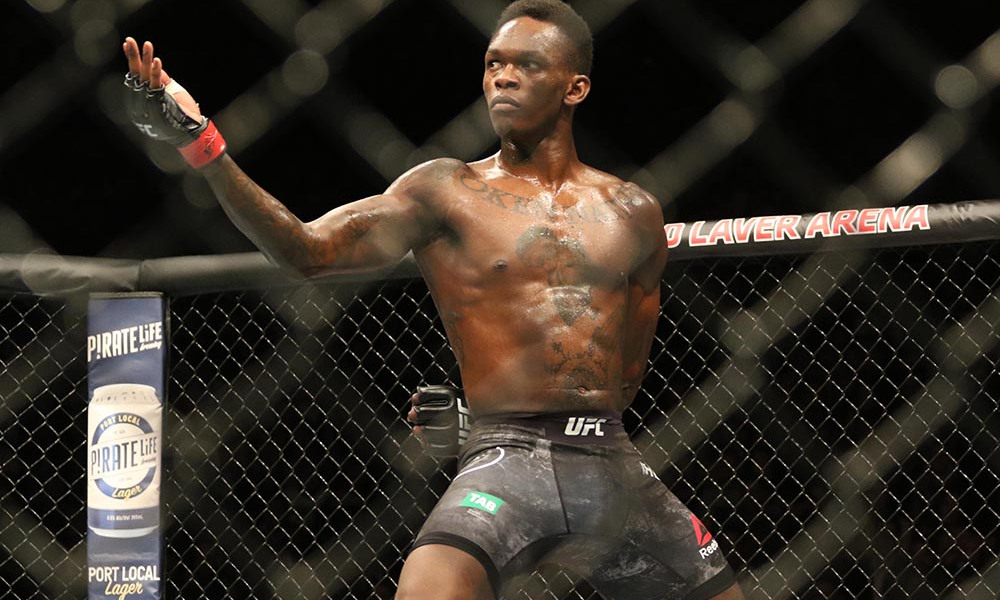 UFC middleweight champion Israel Adesanya holds an unwavering view that he's the best middleweight on the planet, and his record speaks for itself. He has been on a rampant run, wiping out almost the entire division. He is all set to face Jared Cannonier at UFC 276, in a quest for his fifth title defense. His opponent Jared Cannonier has emerged as the dark horse of the division, and is confident in his abilities to dethrone the middleweight king. Cannonier dug deep, and overcame some adversity in his last fight against Derek Brunson, eventually knocking him out cold. Adesanya on the other hand has been lapping the division, and beat Robert Whittaker in their rematch at UFC 271.
The stars are aligned for Adesanya to make his fifth title defense at UFC 276 with an opponent that prefers a stand-up battle. It is almost impossible for fighters to figure out the puzzle that is Izzy, who is revolutionizing the striking game inside the UFC, one fight at a time. In a sport that is evolving everyday, 'Izzy' has changed the way we perceive striking through his laser-sharp precision punches, exceptional footwork and seemingly unintelligible defense. Izzy has successfully set in motion and established the feint game which was unique when MMA textbook striking is taken into consideration. He draws reactions out of his opponents through subtle movements and in doing so computes the data and launches his range of attacks.
How many rounds has Israel Adesanya lost inside the UFC?
Israel Adesanya vs Rob Wilkinson
Israel Adesanya made his UFC debut against Rob Wilkinson at UFC 221. He put on a clinical performance, winning the fight via TKO. Although the first round was a close one in which his opponent managed to hang with him in the pocket, it was still smooth sailing for the 'Last Style Bender' who won both rounds of the fight convincingly.
Israel Adesanya vs Marvin Vettori
Adesanya would go on to face Marvin Vettori UFC on Fox: Poirier vs. Gaethje in 2018. Although the fight was a close contest, he managed to pick a split decision victory against the Italian, and improved his MMA record to 13-0. He lost the third round of the fight on the judges' scorecard, while one judge scored the contest in favor of Vettori.
Israel Adesanya vs Brad Taveres
Adesanya fought his first ever five rounds bout inside the UFC against Brad Taveres in The Ultimate Fighter Undefeated edition, and won the fight by unanimous decision. He won all five rounds in two judges scorecards, and lost one round according to the third judge. Overall it was a walk in the park for Izzy, who extended his UFC record to 3-0.
Israel Adesanya vs Derek Brunson
Leading up to the event, the narrative surrounding the fight was that Izzy would face his biggest test so far against Derek Brunson. A seasoned wrestler and experienced fighter Brunson tried to get inside Adesanya's skin and test the spirit of the Nigerian native. However, Adesanya put up one of his best performances so far, absolutely dismantling Brunson and beating him in the first round via TKO.
Israel Adesanya vs Anderson Silva
Adesanya would face his longtime idol, and MMA legend Anderson Silva at UFC 234 in Melbourne. Having fought four times in 2018, Izzy was planning to take a much-needed break with a Europe trip, however he could not let the biggest opportunity of facing his idol slip away. The bout lived up to the expectation, and felt like a movie or a Mortal Kombat fight. Adesanya won the fight by unanimous decision, winning all three rounds of the fight.
Israel Adesanya vs Kelvin Gastelum
This fight was one for the history books. The roller coaster fight had round-the-clock action, unimaginable grit displayed by both fighters, and an absolute war. Adesanya lost the first and fourth rounds to Gastelum, even getting rocked momentarily in the fourth round. Going into the fifth round he realized that he had to give it all in the fifth round, and he did gloriously. The visual of him saying, 'I am willing to die in here' still gives chills to MMA fans till date. He was crowned the interim champion of the middleweight division with this victory.
Israel Adesanya vs Robert Whittaker
Adesanya would face Whittaker for the undisputed middleweight championship at UFC 243. Whittaker was a favorite going into the fight, but he stood no match to Adesanya's striking onslaught. Rob almost got finished in the dying seconds of the first round, only to be saved by the bell. Adesanya made a perfect read and landed a perfect left hook during a wild exchange in round 2 that knocked out Whittaker. He was crowned the undisputed champion of the middleweight division.
Israel Adesanya vs Yoel Romero
Adesanya lost two rounds against Romero in a lacklustre and underwhelming fight at UFC 248.
Israel Adesanya vs Paulo Costa
Adesanya beat Paulo Costa by TKO in the second round in a clinical performance, systematically damaging the Brazilian. In the end Costa could not keep up with Adesanya, who beat him in the entire fight convincingly.
Israel Adesanya vs Jan Blachowicz
Adesanya jumped up in weight class to fight for the coveted 'Double Champ' status against Jan Blachowicz at UFC 259. However the size difference proved too much for Izzy, as the Polish fighter wrestled his way to victory. Adesanya lost four rounds although several fans and UFC President Dana White were shocked by the mind-boggling scoring.
Israel Adesanya vs Marvin Vettori 2
Adesanya faced Vettori for the second time at UFC 263 and won the fight by unanimous decision. He won all five rounds.
Israel Adesanya vs Robert Whittaker 2
Adesanya faced Whittaker for the second time at UFC 271, and won the fight by unanimous decision although he lost two rounds in that fight.
Israel Adesanya has lost 11 rounds inside the UFC as per records from the fight scorecards released online.
More MMA news